SOLD
Sire: First Fleet Naturaliste / Dam: First fleet Molly  (DNA parent verified)
DOB: 22 November 2020
We are confident Pablo will mature  into a very worthwhile stud buck. His dam Molly has turned out to be one of our most important does with her very wide arch, shallow rump and general lovely dairy character. Her large udder needs better attachment and teat size. For that reason we chose to mate her with Naruraliste (Castle Rock Harvest Moon x CHW Gold Dubloons). Naturaliste's sister Eve has a very well attached udder that hardly moves, with plump, big teats and large orifices. We hope that this genetic combination will lead to great mammary systems in Pablo's daughters.
Pablo's conformation looks promising. He is long bodied with a wide and high arch, uphill stance and good brisket extension and angulation. We like him very well but will have to sell him because we are keeping already most of Mollys daughters and granddaughters!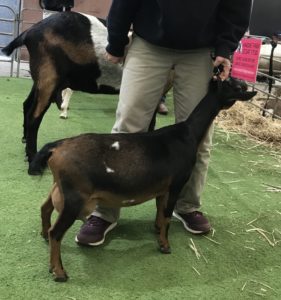 Pablo,s dam Molly as a first freshener:  large, productive , easy to milk udder but the  udder attachment genetics should have improved by her mating with Naturaliste (Castle Rock Harvest Moon X CHW Gold Dubloons).
Watch video of Pablo: IMG_1666 copy
F.F. PABLO  pedigree