Junior Bucks For Sale:
We are selling the following junior bucks who are all sired either by First Fleet Naturaliste or by First Fleet Baudin.
FIRST FLEET NATURALISTE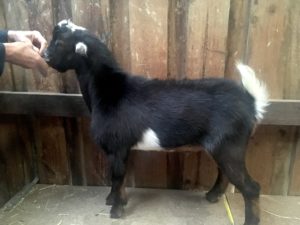 FIRST FLEET BAUDIN
Naturaliste and Baudin were derived from our latest embryo import and are from champion Castle Rock milking lines. We are surprised how consistently outstanding the structure and blending their offspring (male and female) are, and we are confident these little bucks they have sired will lift the quality of 100% Nigerian Dwarf Goats here in Australia to a new level not only in conformation but in dairy performance.
See information and photos of Baudin's and Naturaliste's American  sires and dams under section "New Genetics Have Arrived".
---
First Fleet Lennox     First Fleet Naturaliste X First Fleet Luna  
             For Sale    3000.-  plus  GST
 DOB: 5.8.2019; buckskin with a little white overlay. He is a strong and long buck. His dam Luna brings a nice structure and udder  to the mix.  
Note: when Lennox was clipped at four months of age, the dark colour under his buckskin brown was revealed (see 2nd and 3rd photos).                       
watch video of Lennox:  IMG_8477 2.                                                                                                             age 4.5 months
---
First Fleet Bruce      First Fleet Baudin x First Fleet Blanche
For Sale:  3000.- plus GST  
 DOB: 19.8.2019, chocolate buckskin with white overlay;                                                 new up to date photo coming soon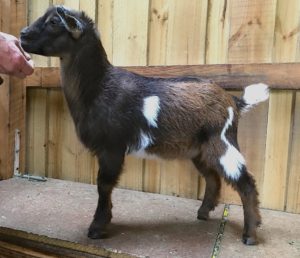 ---
Does For Sale:
---
Currently there are no does for sale.