All our goats are fullblood (100%)  Nigerian Dwarf Dairy Goats. We breed exclusively from USA imported genetics (embryos and semen). We have no Australian graded Nigerians dwarf goats (mixed breed) in our herd. All our goats are DNA parent verified, micro chipped, tested annually for CAE and JD. We maintain a strictly closed herd and show our goats only in tested shows. Our goats are registered with the American Dairy Goat Association (ADGA) Your purchased goat can also be registered with DGSA or MGBA.
We sell animals that are healthy and sound at the time of purchase. A prospective purchaser has the right to a veterinary health report at his/her expense before purchase. We are not responsible for the health of an animal purchased from the time it leaves the farm unless we are presented with a vet's official statement that the animal in question had a condition prior to purchase. The risk of loss is that of the purchaser once the animal leaves our farm. All buyers are encouraged to pick up their animals as soon as possible after payment and not use us as an agistment facility. We are very happy to help arrange transport of your goats to anywhere in Australia.
Interested people and prospective buyers are most certainly welcome to come visit and inspect our herd and goats for sale.
BUCKS FOR SALE:
Most of this season's bucklings are the result of  AI (artificial insemination). We have used our US imported semen straws : Castle Rock Farm Mad About The Moon,  Castle Rock Farm  Harvest Moon,  Castle Rock FarmTriumph as well as Castle Rock Farm Guy Noir (imported by Paul Hamilton). See details about these particular genetics in our menu under "Castle Rock Farm genetics imported"
We believe these bucklings will contribute greatly to the improvement of dairy characteristics and will become valued herd sires. They can be used this coming breeding season  since most were born in October/November 2021.
A few thoughts about using AI:
Using frozen imported semen from high quality  Nigerian Dwarf bucks bred by well esteemed U.S. breeders will almost always produce superior offspring here in Australia. The drawbacks are increased costs, and delays in achieving pregnancies compared to simple live breeding. A competent AI technician will generally have a "take" rate of approximately 50%, meaning half the number of purchased straws are wasted. Added to that waste cost are the storage cost of the semen straws in liquid nitrogen, the cost of the straws, the cost of hormonal preparation of the does to synchronise their heat cycle, etc.  From experience we know that sometimes it can take multiple  AI attempts (and two months longer) to get a doe pregnant by AI than by natural mating.
A further consideration is that after the use of a buck for mating, (on one or on multiple does) that buck can be sold on, meaning that the investment cost in that buck can be totally, or at least partially, recouped. On the other hand, the empty, used semen straw sheaths have no value …
This explains the increased price of our bucklings listed. Most are either derived by AI, or both their parents were conceived by AI.
FIRST FLEET MOON DANCE   (F. F. Molly x Castle Rock Mad About The Moon) AI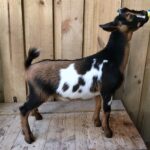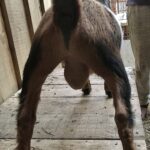 Sold
———————————————————————————————–
FIRST FLEET MOON SHADOW (F.F. Molly x Castle Rock Mad About The Moon) AI
Sold
———————————————————————————————–
FIRST FLEET GRAYSON  (F.F.Kamala x F.F. Gray Area)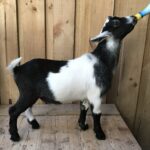 Sold
———————————————————————————————–
FIRST FLEET NEW MOON (F.F. Dora x Castle Rock Mad About The Moon), AI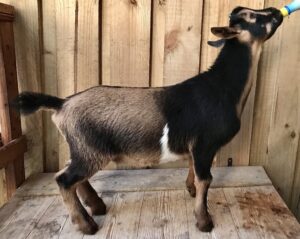 Sold
———————————————————————————————–
FIRST FLEET JULIAN  (F.F. Kamala x F.F. Gray Area)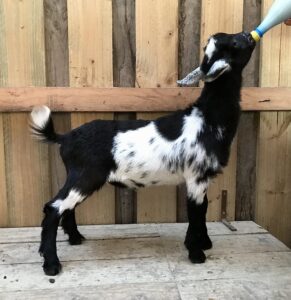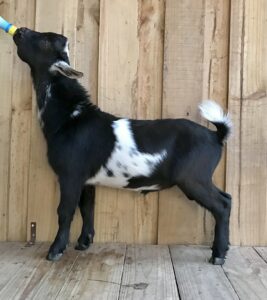 on hold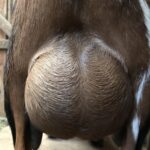 Dam:  F.F.Kamala's first freshening udder
———————————————————————————————–
FIRST FLEET PHONIX   (F.F. Cassandra x Castle Rock Triumph), by  AI
 on hold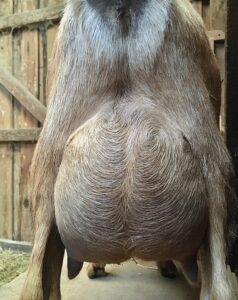 Dam:  F.F.Cassandra's first freshening udder
---
FIRST FLEET LAZARUS   (F.F. Cassandra x Castle Rock Triumph), by  AI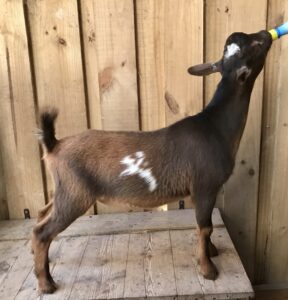 7000.- plus GST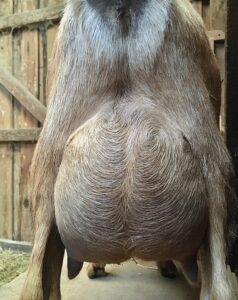 Dam:  F.F.Cassandra's first freshening udder
DOES FOR SALE:
Because of our workload and our advancing age we reluctantly have to sell the following does. Photos and details of these does can be found in the "Doe" section of the menu. Please don't hesitate to contact us for more details about a doe you are interested.
F.F. BETTY (F.F. Mathilda x F.F. Baudin)  in milk        Sold
F.F. HESTER   (F.F. Hope x F.F. Baudin)  in milk         Sold
F.F. KARINA   (F.F.Molly x F.F.Baudin)  in milk               Sold
F.F. LOUISE   (F.F.Hester x F.F. Naturaliste)  in milk    Sold
F.F. DORA   (F.F. Molly x F.F. Naturaliste)   in milk.         Sold
F.F. ETHEL  (F.F. Eve x F.F. Gray Area)                                Sold
F.F. PETRA  (F.F.Betty x F.F. Naturaliste)   in milk          Sold
F.F. SARABANDE (F.F.Sally x Castle Rock Guy Noir) by AI  on hold
F.F. Eve  ( CHW CJS Gold Dubloons x CRF Harvest Moon) Sold